Rating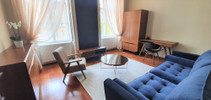 Rated on: 03.10.2022 Length of stay: 5 months
Virag and Tamas are very friendly, professional simply wonderful people. The apartment is modern, and in excellent condition right in the city center with lots of restaurants, cafes, bars, and supermarkets around. My wife and I spent five months in this place and were feeling like real locals finally. So, if you looking for such a life in Budapest this place is for you.
Neighborhood
convenient, close to all public transportation, and the famous Octagon square is nearby. Lots of restaurants, bars, and supermarkets.
Recommended places nearby
Georgian restaurant " Hachapuri"

Alexander G.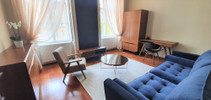 Rated on: 01.05.2022 Length of stay: 1 month
Virag and Tamas were great hosts. Always available to answer any question. I arrived late at night and they had no issues to handed me the keys at that hour and bring me coffee!! They are truly nice people.
Neighborhood
It is the city center close to Oktogon. There is a lot of movement and night life. The public transportation is amazing since you can move everywhere from there.

Pablo F.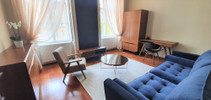 Rated on: 03.04.2022 Length of stay: 1 month
Virag and Tamas are always available. They really take care of every detail. I recommend them any time.
Neighborhood
It is the city center

Pablo F.
References
I was living in the apartment from November 2021 to January 2022 due to a business project in Budapest and it was a great place to stay. The tenants speak English very well and are really nice and helpful hosts. The communication was easy and there were no problems at all. The flat is located centrally in Budapest close to Oktogon Square. In a 2 min walking distance you can find several bus and tram lines as well as Metro M1. Using those, you can travel within the city. Budapest Keleti station is also not far away with public transport or even on foot. Supermarkets (Spar, Penny,…) as well as restaurants (e.g. KFC, Starbucks, Kebab,…) and bars are right at the spot. From the apartment you can easily walk in around 20-25 min towards the Danube River via the Andrássy Street, a famous boulevard offering lots of different shopping and restaurant opportunities. The apartment itself is located on the third floor (there is a lift). It was very clean and modern. Looking exactly like on the pictures, it is perfect for one or two people. The equipment provided was like in the description and offered everything you need. Wifi is fast and a television even with some German TV channels is provided. So all in all, I was very happy with my long-term stay and can highly recommend the apartment.