Rating

Rated on: 06.08.2023 Length of stay: 1 month
¡Todo bien!
Neighborhood
Tranquilo y seguro.

Daniela de la Paz T.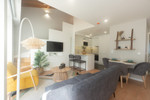 Rated on: 24.05.2023 Length of stay: 1 month
I have had the most marvelous stay! Pedro was absolutely spectacular (as was his wife Loreta) If I needed anything he was more than willing to accommodate! Over all a brilliant experience!!
Neighborhood
Hard to describe it - there is a shopping street directly up the street- grocery, clothing, cafes anything one might need and everything is walking distance
Recommended places nearby
Too many to mention

Carol G.
References
No references are available so far