Rating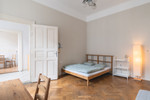 Toby is an amazing host, who is very thoughtful of his tenants and kind in his communication. The apartment was ideally located in a calm and central part of Budapest with a very nice park next to the building. Additionally, it was everything we could wish for: bright, cosy, quiet, well-equipped, and cool (great airconditioning). Highly recommend!
Neighborhood
Ideally located. Shops (2 min walk) and bars are very close. Furthermore, it is very safe, even at night. With the park in front, it gives a very calm and peaceful vibe.
Recommended places nearby
Margaret Island, Parlement, Jewish quarter, City Park, Buda Castle

Yonne L.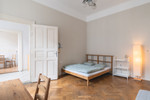 Toby is a great host. He was very helpful and responsive always throughout our stay. His flat is very spacious, fully equipped, clean,silent and bright. Me and my partner had a great time. Everyone could find it excellent. Thank you, Toby. :-)
Neighborhood
The area is so nice, next to Andrássy avenue, Oktogon and Hunyadi market. There are also plenty shops and restaurants nearby.
Recommended places nearby
Hunyadi Market, Andrássy avenue, Heródes Square

Black K.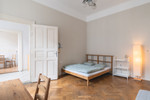 I had a wonderful stay in Budapest. Toby' flat is located in the centre of Budapest with many shops, restaurants and cafes nearby. The flat was clean and well equipped and I felt like home in his apartment.
Neighborhood
Friendly neighborhood in the city centre. Many shops, restaurants and public transport nearby.
Recommended places nearby
the local market hall in the same street, just 2 min walk from the apartment.

Pierre B.
References
No references are available so far