Rating
Owner's overall rating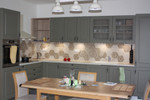 Used the flat when visiting Prague occasionally. The flat is very modern, has a very big dishwasher, oven, cookware, etc.
Communication with Adela was very easy and fast.
Good transport connections to center/subway. 24 hour Tesco in 5 min walk.

There is sunlight during morning hours, afterwards need to use artificial lightning, which is very good though.

Very quiet - I heard very little noise, even duting the football matches nearby.

Suggestions:

1) Would be cool to have a microwave oven - to save electricity when reheating food.
2) Would be cool to have detailed printed instructions (e.g. which chemicals to use on which surfaces, which wipes to use) on how to deep clean the bathroom - we managed to do some very time consuming cleaning, but that was not enough.



Artem F.
References
No references are available so far